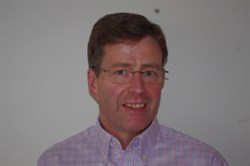 In the event of any fetal cardiac problem we involve Robert Yates who is Consultant Fetal and Paediatric Cardiologist at theCardiothoracic Department, Great Ormond Street Hospital for Children, London. 
Robert Yates undertook his undergraduate medical training in South Africa graduating in Johannesburg before coming to the UK in 1989. After basic training in Paediatrics his postgraduate training in Paediatric Cardiology was undertaken in London gaining his CCST in 1996.
He was appointed as a consultant at Great Ormond Street Hospital in 1996. He is a frequent visiting consultant to a number of overseas hospitals. Robert  looks after children with cardiac conditions – this involves the care from the fetal period through to adulthood. He is particularly interested in the diagnosis of heart disease before birth and the use of keyhole type techniques to treat children's heart problems.
He has published widely in both interventional and fetal cardiology as well as book chapters in major Cardiology/Paediatric text books.